December 13th, 2010
At the same time I did my Halloween soap dispenser, I also made one for Christmas time. I originally saw the idea on the blog Brown Paper Packages so she totally deserves credit for my genius! Her blog is full of crafty ideas and I love it.
Here's what I did. I took a $1 soap dispenser bought at the grocery store and spray painted it with a few layers of red spray paint (from the dollar store). Then I dug around in my scrapbooking supplies and found a rub-on that said JOY (so it wasn't screaming Christmas and I could use it after also). I applied the rub-on and then put a coat of Mod Podge over the whole thing with a foam brush so it wouldn't get ruined by the water since it was going to be in the bathroom. Found a pretty ribbon that was Christmas-y and tied it around the bottle neck (which is something I could change to white ribbon after Christmas, again so it's not screaming Christmas and I could still use it in January) And here it is!
If you aren't the scrapbooking type, you could also use a paint pen or sharpie marker to write a word in pretty handwriting or draw a snowflake if you're artistically inclined (I can't even draw stick people).
Anyway, I love it! I want to make them for Valentine's Day and Easter. Maybe one with a leaf for autumn. There are tons of possibilites really. So what do you think? Cute, huh?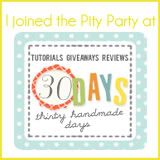 a>
Filed under Projects | Comment (0)